OBITUARY
With heavy hearts, great sorrow, but with gratitude to God, we bring to you the sad news about the passing of a dear friend and true son of Ogbomoso, Olatunji Mafolasire. Mr. Olatunji Mafolasire passed on Monday March 6, 2017 in Indianapolis, Indiana. He was 70. He is survived by his wife of forty years, three children and many grandchildren.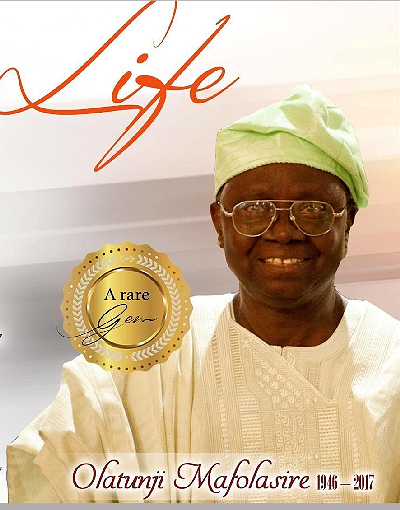 Olatunji Mafolasire was a founder and leader of the North American branch of the Ogbomoso Community Foundation, OCF. In this capacity, he did everything to advance the progress of Ogbomoso, often working quietly and tirelessly behind the scenes.
He was born March 14, 1946 in Ogbomosho as the third of four children and first son of late Reverend Abraham Amao Mafolasire and late Juliannah Olajumoke Mafolasire (Nee Togun). Following the early demise of his father, he spent his formative years in Ogbomosho lovingly raised and nurtured by his beloved mom and members of extended family.
As a child, he was renowned for his boundless energy and gleeful vigor. Amidst all that, he excelled at school. He enrolled at the prestigious Olivet Baptist High school and the University of Ibadan. He graduated from the University of Ibadan in 1973 with B.Sc (Hons) in Agricultural Science. After spending a year as an Agricultural Officer in Ikom, Cross River State, Nigeria as part of the pioneering class of the National Youth Service Corps, he began his professional career at West African Rice Development Association (WARDA), first as a weeds specialist then later as Training officer from 1974 to 1979. He would return to Nigeria in 1980 joining Ogun Oshun River Basin Development Authority (OORBDA) as Program Manager at Itoikin. where he worked until retirement in 2006.
He married his wife, whom he had met while working in Liberia, in 1977. Their marriage was blessed with three wonderful kids. A loving husband and devoted father, family was everything to him. Drawing on his own early years when he was raised collectively by his mother and several extended relatives, he made it a priority to always be available to his loving nephews and loving nieces in a personal manner. As his career thrived with immense success, he never lost touch with his own life story. He enthusiastically went back time after time to seek family and friends he could extend opportunities to.
In his entire professional career, he was known for his fierce dedication and his even deeper commitment to integrity and fairness to all. His managerial acumen, organizational efficiency and consensus building saw him rise through the ranks to the Ag Executive Director (Operations) at OORBDA . He served as a mentor to many who went on to have outstanding careers both within OORBDA and outside. To him, mentorship is life-long friendship. As a devoted mentor, many of his proudest moments were in basking in the success of those who he was so opportuned to give a start. He is survived by his wife of forty years, three children and many grandchildren.